Our Managed IT Service removes your stress and staff frustrations of ensuring your computers are functioning as they should – as you pass that stress across to us. We have designed our suite of services to be easily configurable to meet the differing needs of SMBs across technology, service level and cover periods. But day to day management of IT is only part of the story.
Many organisations have a simple "break fix" arrangement with an IT shop; ie when something goes wrong you get it repaired. The problem with this approach is there is no long term view of how your IT should evolve and no advice on the actions you should be taking to protect yourself, your staff and your business from cyber breaches. With a managed service, we are vested in your success and ensuring there are as few problems as possible as we want to be serving your organisation well into the future.
With you all the way
An essential component of our managed IT service is the little software agent we install on your computing devices. The agent continuously monitors the health of your device and reports back to us if the device starts to operate outside of pre-set thresholds. In addition, the agent manages software updates to your machines, schedules them at a time that's convenient for you and informs us if it has not happened. The agent also enables us to access your machines when required to address issues remotely.
Locking down the hatches
Our objective is to ensure your IT keeps functioning, so we need to ensure appropriate precautions are taken against cyber security threats. When we first take on a new client we audit, record and setup every device with secure configurations. For example, only a few individuals should have administrator access, passwords should be secure, and computers set to automatically accept software patch updates. Managed endpoint security software is installed to ensure your computers are continuously protected against malware. Ideally, we agree a set of IT security policies with our clients so we both understand what's going on and who is responsible for what. People are responsible the majority of data breaches, including your own staff. So we encourage our clients to provide cyber security training for staff.
Into the future
IT, like your business, does not stand still and needs to evolve to keep pace with your business and changes in technology. With all our Managed IT Services clients we make time to discuss and plan out an evolution strategy. Our approach is to categorise actions into must do, need to do and nice to do and then settle on a plan that's achievable based on need and budget. For some clients this has been a progressive implementation of cyber security measures and for others it's been a migration to cloud services. Whatever the plan, its designed to suit you and your business
How do I ….?
All, or at least most of us, get stuck from time to time on how to perform some function in email, or Office or how to recover a deleted file. Wouldn't it be nice to have someone to help with these issues so your staff can continue being productive instead of Googling the answer? Well this is one of the functions our help desk offers. We are there primarily to address issues when your technology goes wrong, but also to help with hiccups along the way. We have designed our response time frames to cater for both IT issues and "how do I … " issues. We may not know the answer to everything, but we do know more than most.
Our Managed IT Services … 1 … 2 … 3
As for our Managed service offering, consider it a Rubiks cube – three dimensions across technology, service tier and time. It's a simple three step process to select the right mix for you: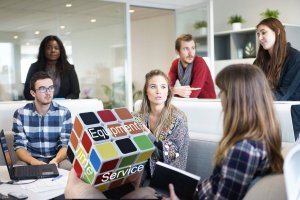 Select the technology: workstations, mobile devices, servers and NAS drives, printers and network devices;
Select the tiers of service: just monitoring, or plus helpdesk, or plus preventative maintenance or all you can eat. Pick different levels of service for different type of equipment; and
Select the cover period: Pay for what you need – Monday to Friday 9-5:30 suits most businesses but add additional hours and / or weekend cover if you need it.
Like to know more? Call us on 01428 770290 or send us a message.