We would like to say a really big  'thank you' to all our customers for your support and look forward to another ten years keeping local business systems safe and secure.
On Thursday 14th November we celebrated our 10th anniversary with a grand party at Oliver's Coffee Shop and Wine Bar in Haslemere. More than 40 customers, supporters and friends helped us celebrate a decade of supporting the diverse IT needs of local businesses in the Three Counties area.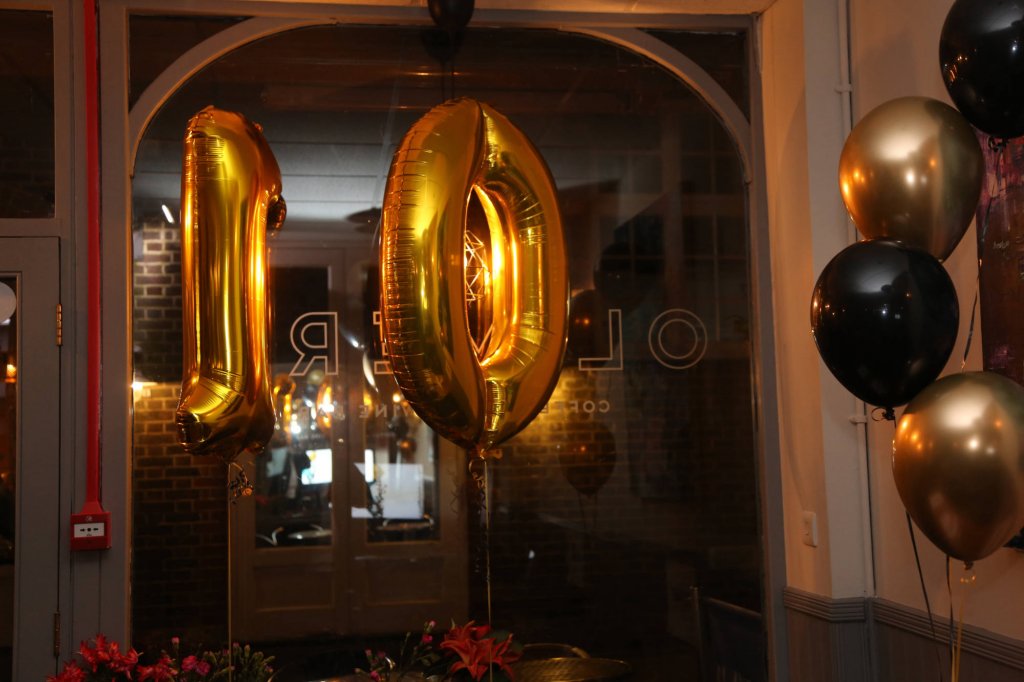 Personal Attention and Care for your IT
Richard Paterson, our Managing Director said: "The 10 years since I started the business have flown by and I'm delighted that so many of our customers came along to raise a glass with us. The relationship we have with our customers is worthy of celebration; they count on us to keep their systems safe, secure and up-to-date and we're privileged to be a part of their success. Given the many challenges to retailers up and down the country, the fact that PAAC has prospered is testament to our customer-centric approach, PAAC's fantastic team of friendly experts and the fact that we're able to respond quickly and effectively to the needs of local businesses."
"IT support firms are not all the same – it's widely accepted within the industry that some fall short of giving great customer service – so when I started PAAC IT, I was determined to put the customer front and centre of the business, hence the name Personal Attention and Care for IT."
Craig McGown, President of the Haslemere and District Chamber of Trade and Commerce commented "It is tremendous to see so many customers and well-wishers here at PAAC IT's 10th anniversary celebrations. PAAC IT is a good example of a successful Haslemere business- it provides a fast, knowledgeable and personal service which helps it to ensure it is continually meeting its clients' needs and requirements – something all business need to do to survive in today's world".
Keep moving
We have moved with the times and responded to developments within the retail and online business world. With an initial start with retail and now a focus on and growing number of business contracts across Surrey, Sussex and Hampshire, we have gone from strength to strength, providing a wide variety of IT support from cyber security, website development, back-up and recovery, and cloud services whilst retaining its friendly flagship store in the centre of Haslemere.
With more than 40 business customers, PAAC IT's range of services are uniquely suited to SMEs. Richard said: "We offer pretty much everything that a small business could need – from help desk and IT monitoring to security and backup and emails and storage. These are the services that small businesses rely on to keep them going. With 43 percent of the UK's SME's experiencing phishing attempts over the last 12 months and 66 percent of those attempts resulting in a successful attack, it's never been more important to make sure that you have the right security and support for your business systems."
Alan Morgan, PAAC IT customer and Co-founder and Managing Director of ETC Hospitality Ltd said: "PAAC IT really do live up to their name – personal attention and care are at the heart of their customer experience. Time and again they have gone the extra mile for us – their responsiveness, and sometimes anticipation, of our needs is tremendous. Richard has become an extended member of my leadership team and I'm delighted that they've grown and developed to support the evolution of my business as our IT needs have changed."
Community engagement
PAAC IT has been involved with several community engagement initiatives include hosting a computer clinic for older people at Haslewey Community Centre, providing valuable work experience for students from Godalming and Midhurst Rother College and the we play an active role in the Haslemere & District Chamber of Trade & Commerce.
Richard said: "One of our core values as a business is that we want to give something back to the local community. We're constantly on the look-out for ways in which we can get involved with community projects and have just started working with Stepping Stones School in Hindhead to provide a supportive work experience environment for some of their students."
Toward tomorrow
We are firmly committed to supporting small businesses and ensuring IT enables their business growth. Technology is a fast-moving area and we need to keep evolving and keeping pace with latest industry developments. Our next move will be to provide cloud hosting services in the new year with local Waverley based cloud provider, Memset.