All of us receive spam and other malicious emails every day. But have you ever stopped to think what proportion of your email is spam? It is high!
On a global level its around 45% of all emails – that's 14.5 billion messages globally per day!! Of these spam messages:
36%

is advertising. Want a new dress? A car? Or perhaps some perfume. Many of these messages are legitimate as perhaps you opted in to receive some promotional messages. Nevertheless they can be really annoying and you don't need your inbox swamped by all these offers.

31.7%

is adult content, the 2nd largest category of spam mail. Need a bigger xxx? Or more sex drive or perhaps you'd like to meet a willing partner nearby? This is the category in which most malware hides.

26.5%

is related to financial matters – financial news, investment opportunities (good and bad). Be on the lookout for financial rip-off schemes. Hey – while you're here I've got a great opportunity for your pension fund!

2.5%

of spam messages are scams and fraud (phishing), with identity theft making up 73% of this number. Although 2.5% may sound like a small number, its generally recognised that phishing is the number 1 cause of data breaches.
Like most cyber-cyber crime these days the bad guys are well organised. In fact, about 80% of the USA's and Europe's spam messages comes from the same 100 organisations. The spammers can be based anywhere, but the top countries are the USA, China, the Ukraine and Russia.
But what about me?
These global statistics are all very well but what does this mean for you and I? Well, we use a tool to look at the health and performance of the Microsoft 365 "tenants" we manage for our customers. One of the items we keep an eye on is the amount of spam and malicious messages. Surprisingly, the proportion of spam and phishing emails we see in our customers emails is very similar to the statistics above – 44% being spam and 3% phishing emails.
What can I do about it?
Use an email protection service – sometimes called a spam filter. We use and recommend Email Threat Protection from AppRiver.
This is a managed service offering multi-layered filtering that permits legitimate email while keeping out malicious threats such as phishing, impersonation, malware, ransomware, and spam-type messages.
Advanced Email Threat Protection blocks 99 percent of unwanted mail and malware, keeping your inbox clean and your network safe.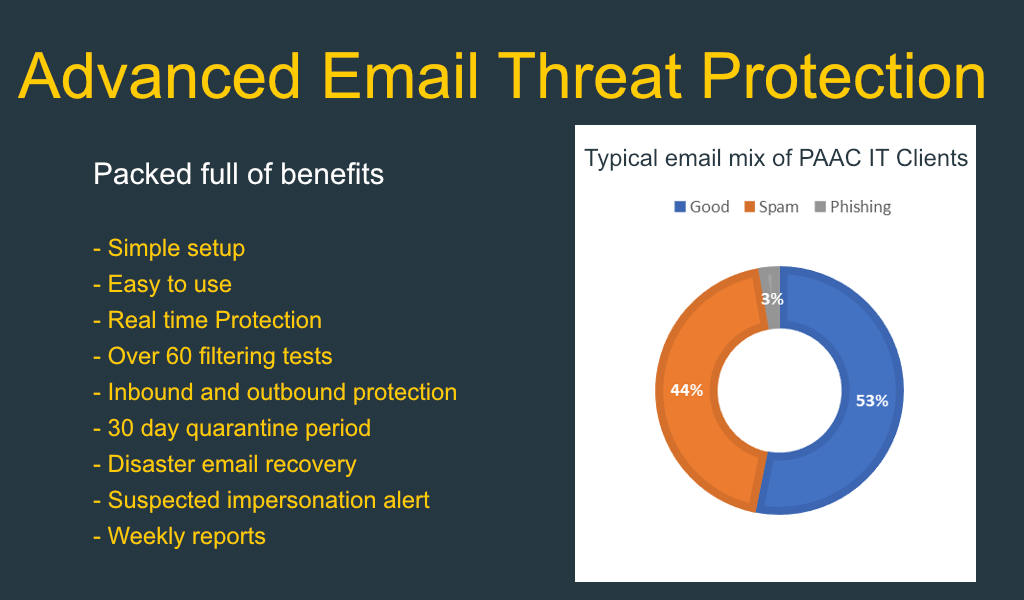 A simple change (to the MX Record) routes your mail through AppRiver's Email Security servers before it ever reaches your network, which ensures that the mail that does reach your network doesn't pose a threat. The service categorises email as spam, malware, released mail and trash. "Offending" emails are held in quarantine allowing you to view and release or delete them at your leisure. It's easy to add email addresses to you safe senders list – a click of a button sends them to us for action. If you wish, we will provide a weekly report to a nominated person on the volume and type emails you receive.
Like to know more: