Microsoft have announced two sets changes to their 365 product suite:
Price increases for 6 products, and
Changes to their terms and conditions with the introduction of fixed term contracts
This article outlines the changes and how they will affect your organisation.
The changes only apply to commercial users. If you are a Non-profit or Educational user, the changes do not apply to you. Changes for Government users are expected to be introduced later.
Price changes
Microsoft say this is the first time they have changed prices in 10 years – apart for due to exchange rate variations. The new UK prices will be: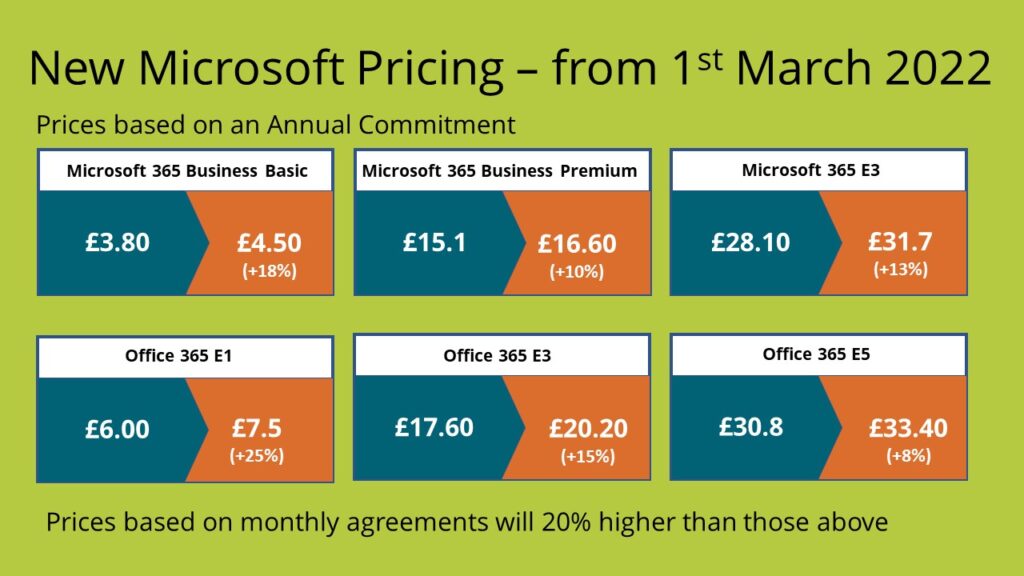 The price changes will apply to new licences from 1st March 2022.
The Microsoft services you currently have from us allows you to chop and change on a month-by-month basis, but there is an annual renewal date associated with your licenses. The price changes will come into effect on your current licences when you hit your annual licences date. We will advise customers of their annual renewal date.
When you order new licences from 1st March 2022, the new higher price will apply.
Beat the price rise
You can lock in the current prices by signing an annual commitment prior to 28th February.  The current pricing will apply to any new subscriptions you add during the term of the contract, but you will not be able to reduce the number of subscriptions.  Payment for the 12 month commitment will need to be made in advance.
To take advantage of this offer, please book a call with Richard by clicking here, on or before 24th February.
Changes to Terms and Conditions
Microsoft have introduced a new platform for provisioning most of their services, called the "New Commerce Experience" or NCE. Many Microsoft products, such as Azure, Dynamics and Power Platform, are already on NCE and the latest change puts the 365 suite onto the same platform.
Essentially the changes mean that customers will have to commit to term contracts of either monthly, annually, and soon, 3 yearly.
The default contract will be the annual agreement. This commits you to a number of licences for an annual term. But does mean that if staff numbers change and drop below the baseline you will still need to pay the baseline level. This can be paid upfront or monthly.
Monthly – This gives you the flexibility to increase and decrease the number of licences every month but comes with a 20% premium over the annual price.
3-Year – As for annual contracts but with a 3-year commitment. This can be paid upfront, annually, or monthly. The option is not available yet but is expected soon.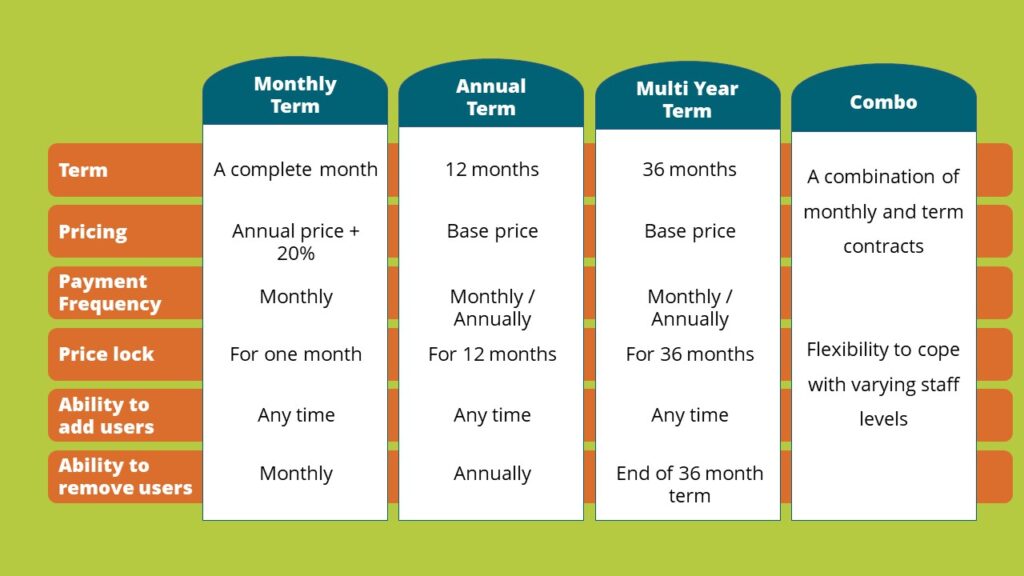 It is worth noting that you can 'mix and match' subscriptions, which is a useful option for organisations where staffing levels can fluctuate. For example, you could commit to an annual or 3-year term for 'core' staff to lock in the best price and then have a monthly commitment to license fluctuating staffing levels, such as seasonal staff.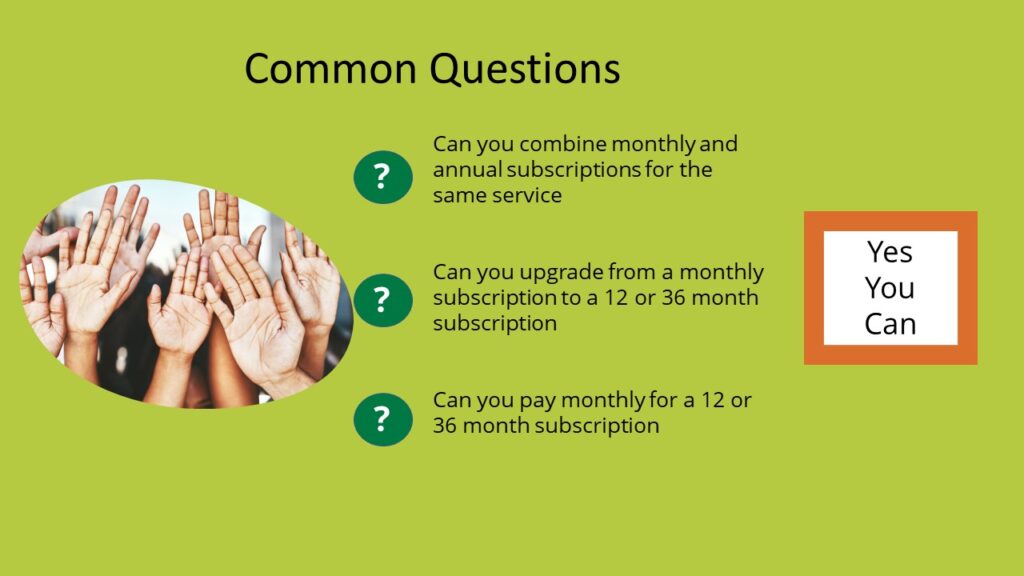 With these contract options Microsoft has signaled that there may be more frequent price change than in the past.
All new contracts have to be on the NCE terms by 10th March 2022 and all subscription renewals have to be on NCE by 1st July 2022.
You may continue with your current legacy contract until it expires or until 1st July, whichever comes first. You may add new subscriptions to your legacy contract during this period.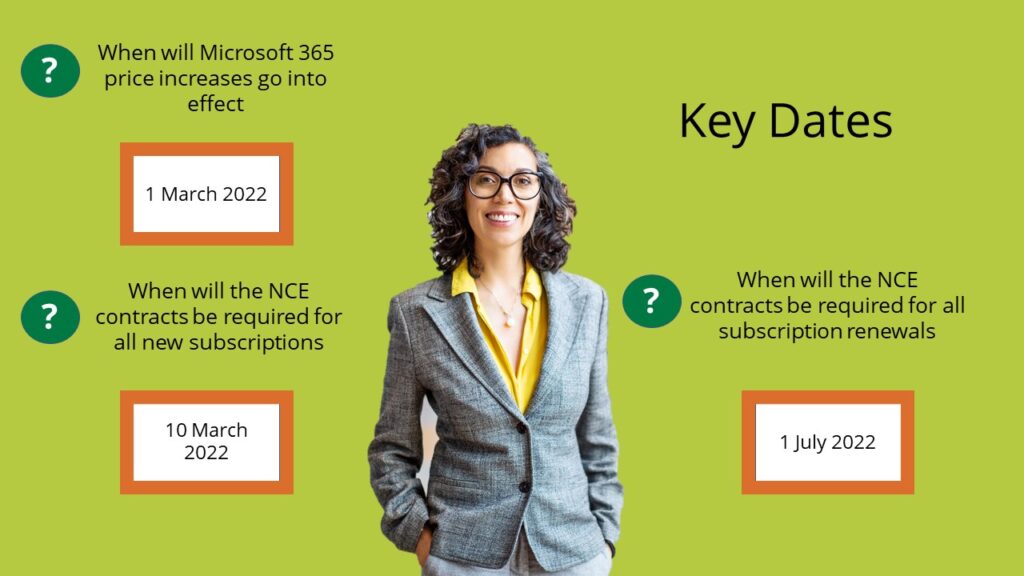 Cancellations and reduction in licenses
Once a new license has been ordered on NCE it can only be cancelled within the first 7 days with a prorated refund. The same applies to reducing the number of licences. You can request 30 day free trial licences prior to committing to a term agreement.
We will be in touch to discuss these changes with our customers, or call us on 01428 770 290.