Microsoft recently changed the names and branding of its Office 365 productivity suite to Microsoft 365. There is no change in functionality – just a name change and re-positioning of the product suite by Microsoft.
We will be applying the new names to our customer invoices from now on.
What's Changed?
The 365 product suite comes in a number of variants aimed at different market sectors: Home, Business, Enterprise, Government, Education and Firstline. But the changes primarily affect the Business product range and are:
Office 365 Business Essentials goes to Microsoft 365 Business Basic
Office 365 Business Premium changes to Microsoft 365 Business Standard
Microsoft 365 Business goes to Microsoft 365 Business Premium, and
Office 365 Business moves to Microsoft 365 Apps for Business.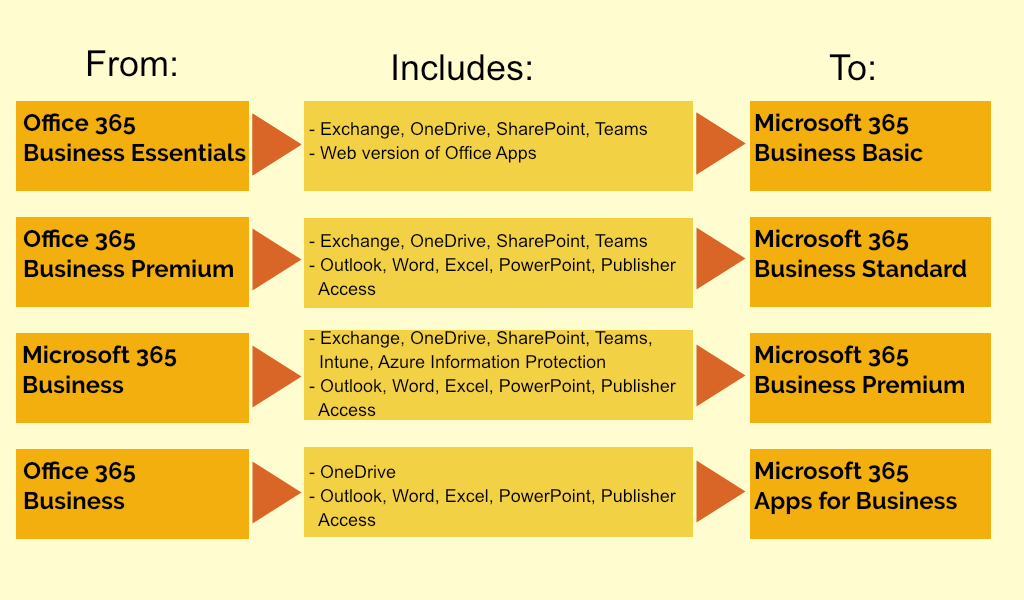 There is no change to:
Enterprise: E1, E3 and E5
Government: G1, G3 and G5
Education: A1, A3 and A5
Firstline: F1
Why Change?
Its nearly 10 years since Microsoft launched Office 365 and the market has evolved and is very competitive with Google and a host of others champing at Microsoft's heels. Presumably they now want to emphasise their cloud, productivity and security credentials as opposed to the device-based Office Suite that they have majored with for so many years.
Any new stuff?
Not in the name change itself, but Microsoft are continually enhancing and broadening its product suite. Just a few examples below that you may not be aware of:
Bookings is an online app for small businesses that arrange appointments with customers – such as hairdressers, law firms, financial services providers, consultants and even IT firms such as ourselves. Click the link to make an appointment and find out more.
Teams keeps getting new features and functions such as video filters (to adjust lighting levels), speaker attribution for live captions and transcripts, on screen chat bubbles and an improved Tasks application.
Editor is an AI powered tool the monitors what you write and suggests changes to duplicate words, jargon and poor grammar. It can also look for plagiarism and suggest inclusive language such as "police officer" instead of "policeman". Editor is built into Word and Outlook and can be added to Edge and Chrome browsers. Its not available on Mac as yet. The version bundled with Microsoft 365 has additional features over the free version.
PowerPoint Presenter Coach. PowerPoint now has the capability for you to perform a dry run of that presentation you have slaved over for hours. Presenter Coach checks out your your pacing, pitch, your use of filler words, euphemisms, and much more. After each rehearsal it offers suggestions for improvement. No excuse now for death by PowerPoint!
If you'd like to learn more, click the link to make an appointment for a no-obligation discussion or simply call us on 01428 770 290.